Nyanta, or
Chief
, is one of the members of
Log Horizon
, which is both the name of the anime and the guild he joins.
This Anime is similar yet different to Sword Art Online in story. The gamers of Elder Tales are trapped in the game, but instead of VR as in SAO, they are trapped in the actual world of Elder Tales.
He harbors a guild member from
Akihabara
(ah-key-hah-bar-ah) in the city of
Susukino
(sue-sue-key-no) until she can be rescued by them. When he realizes that a member of his old guild is one of the rescuers, he leaves with them.
He is older than many of the players and is of the Demi-Human race of Werecat. He is cool under pressure and is very gentlemanly. He hates those that bully.
🐱🐱🐱🐱🐱🐱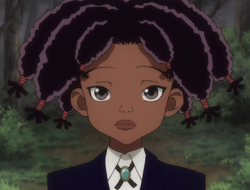 Canary
is a minor character from the Anime
Hunter X Hunter
(2011). She is one of the assistant butlers for the
Zoldyck
(Zaol-dyeck) family. She is ultra-tough but softhearted too.
She has been known to bend rules in loyalty to Killua. When Gon refuses to leave despite being beaten half to death by her, she realizes that he is a true friend to Killua. She allows Gon to pass and is punished for it by Killua's mother.
She is an adept fighter. Her weapon is a rod that she carries with her. Her job is to protect the assassin family from intrusions from unwelcome guests.